We would like to welcome new therapist Kathleen Brownlee to Synergy.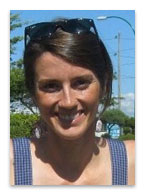 Originally from Victoria, Kathleen has lived in the Kitsilano area since moving to Vancouver six years ago. Kathleen has always had the desire to work in a health care related field. As a competitive volleyball player for the past fifteen years, Kathleen was inspired to become a Registered Massage Therapist after personally experiencing the benefits massage can offer. She completed the 3000 hour RMT program at the West Coast College of Massage Therapy and uses a wide variety of treatment modalities, including: Deep Tissue, Swedish techniques, Myofascial Release, Trigger Point Release, Joint Mobilization, breath training and stretching.
Kathleen believes it's never too late to start working on an active and balanced lifestyle. When she's not working you can find her playing beach volleyball at Kits beach, running, swimming, and training for the Tough Mudder race in Whistler in June 2012. She looks forward to working in the neighbourhood and building her practice with Synergy!